Tuesday, 08 August 2006
My first possible appearances in an Indian movie and a Korean movie, both these initial appearances would then gain me exposure in those markets and open further opportunities in these areas. Remember Indian Bollywood makes more movies and has a larger audience than Hollywood.
This is a part of my goals - to do a major movie in every major market worldwide.
Read more...
Saturday, 29 July 2006
1.11pm Saturday, 29th July 2006 - Bangkok Police recieve a tip off that a heavily armed gang is assembling in the 'Economic Crisis Hulks', abandoned buildings on the outskirts of Lad Prao, Bangkok.
Two 'sacrificial' police officers were sent in to investigate while a dozen more armed officers made ready to assault......
Read more...
Friday, 28 July 2006
Conan as a Ballet Dancer? With Sydney Dance Company? Really? A professional dancer? Yes, here it is... the long awaited video clip proving this fantastic, but true, claim....
Sydney Dance Company Poster For Berlin
Read more...
Saturday, 15 July 2006
Today we went shopping for movie costumes and movie props, as you can see all sorts of weird, dangerous and exotic weapons are available from the street stalls of Bangkok.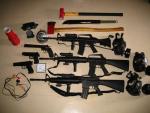 Dangerous Weapons and Replicas - all legal sales on the streets
I also recently did a casting for a TVC (television commercial) for Skittles...
Read more...
Sunday, 02 July 2006
Som Tam (Pronounced Som Tum) the new Thai movie of the year is casting in Bangkok at the moment.
I meet with the Assistant Director on Wednesday - watch this space for updates.
Nathan Jones is also signed for this movie. Two seven foot giants in one movie - this will be awesome.

WEDNESDAY UPDATE - Met with the Assistant Director, and the Producer today...
Read more...
Sunday, 02 July 2006
WOooooo WOOOooooo....
2.40am July 3rd 2006 - www.conanstevens.com - home of the Worlds Biggest Action Hero - goes live.
Now I can go to sleep, right after I get some more food, that was a nice 18 hr coding session.

Sunday, 02 July 2006
This website / blog is to chronicle the pursuit of my dream to become the World's Biggest Action Hero.
I hope to share my thoughts and the hurdles I overcome to live the life I have always wanted.
6 years ago my dreams were torn from me and painfully, smashed cruelly by the random luck of life. For one full year I lay in bed at night, unable to sleep, with tears in my eyes from the agony caused by massive nerve injury.
Now, 6 years later, I am back, I will follow my dreams and like Rocky Balboa I will make it "against the odds".
This is my story....
Read more...
<< Start
< Prev
1
2
3
4
5
6
Next >
End >>
Results 226 - 247 of 247