I spent Oct 2007 in Australia working on the return season of Sydney Dance Company's production "Berlin", surprisingly the day that I landed in Sydney it was 2 years and 1 day since I left Australia (meaning that it was 2 years to the day that I had been based in Thailand).
What had changed? How much had I changed? Did I still enjoy Australia? Would I have fun or would I slowly go insane in a non-utopian encroaching police state?

Upon arriving in Sydney the first thing I noticed was that it was cold, my friends disputed this saying it was very nice weather and pleasantly warm - but it was cold last week - I can without any regrets say that I am glad as heck that I missed that week.
In fact on one warm day our mate rocks up at 9pm -
"Aren't you supposed to be at work?"
"Yeah but because it's so hot the printing machines have all broken down and we can't do anything"
So, the heat, or lack thereof, was the first thing I noticed. Secondly was the clean air, and the clean water of Bondi Beach.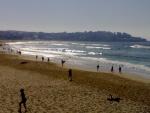 Early Morning Bondi Beach, Australia
Taking advantage of the temperate climate and the proximity of the beach I was up every morning for a walk and occassional swim. This is one of the only things I miss in Thailand - real surf - and water that does not put you on a slow boil.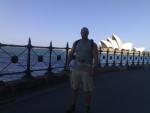 Sydney Opera House, Sydney, Australia
Next thing on hte agenda was of course work. Two weeks of rehearsals then onto the show. On the first day I was walking to work I ran into an old friend Martin, as luck would have it his friend was looking for big guys to audition for the Australian Gladiators TV show.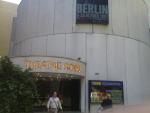 Theatre Royal, Sydney
Fortunately this season of Berlin was to be played at the Theatre Royal in Sydney city rather than the more prestigious, and harder to access, Sydney Opera House where the previous seasons had all been held.
Walking around the city there were "Berlin" posters everywhere, they were on just about every bus shelter and every bill board space available, even outside the city proper there were posters scattered around the suburbs.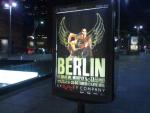 Hard To Miss Berlin Posters Were Everywhere
In fact on a rather unplanned night on the town with iOTA (the acclaimed singer in the production) and a few of the dancers we were constantly running into these rather rude reminders that we had work tomorrow so we should drink responsibly.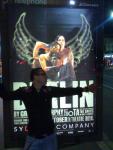 iOTA Poses With The Berlin Poster
Once the show was underway and I had managed to sort out some sort of routine between bouncing from friends place to friends place...
Bondi Room
Like stealing 6 year old Jakes room for an extanded stay. Though at least I got to play with Thomas the Tank Engine and Transformers.
Then staying at another friends place with fantastic beach views of Coogee Bay...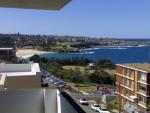 Coogee Bay
My "day off" from the Berlin show was most interesting though, each week with interesting things to do and chase.
My first sunday of the show saw me jumping off high cliffs, helping me overcome my fear of heights.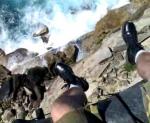 Ready? GO!
Followed by a much more sedate afternoon of professional wrestling....
Of course everybody questions if Pro-Wrestling is 'real' and in this case I can definitely assure you that it was a 100% knock down drag out kick the crap out of your opponenent blood feud...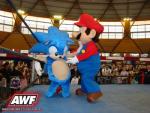 Sonic Hedgehog vs Super Mario
After the initial bad blood matches were settled we entered the more traditional wrestling bouts between giant and mortal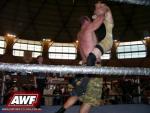 A Quiet Relaxing Sunday Afternoon

Wherein I battled against the newly arrived Irishman Harry Hardshaw. To be honest I was a lot bigger than Harry but we had a good match, except for the roundhouse boot to the head I gave him, which thankfully he went with gracefully and took most of the sting off it.
Of course upon winning big mouth Lebo Ceda entered the ring to tell me he was the only true giant in the AWF.... so next week we were to have a battle of the Giants...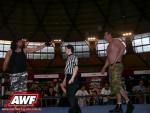 Lebo Ceda Mouthing Off To Conan
Followed by a rather hectic late afternoon tea session with my friends overlooking yet another Sydney beach... Tamarama Beach ...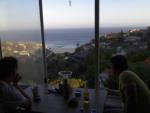 More Beach views

Hectic drinking session? Relaxing wrestling bout? Well if you knew my friends you would fully understand and agree.
At another wrestling match I met with Sam J. Jones - the Original Flash Gordon. Sam even jumped in the ring to interfere with a match - hitting some big mouthed guys with a chair. Sam J. Jones was a great sport - even giving free autographed photos to the younger wrestlers.
Taking the opportunity I graciously refused an autographed photo and instead got a photo of us for this site, this lead to us talking, and finding out that Sam J. Jones had previously worked on a movie in Thailand many years ago and had run foul of Thai traditions (but he was definitely in the right) and had avoided the country since.
Sam J. Jones and I got along great and ended up chatting for about 15 minutes before swapping business cards.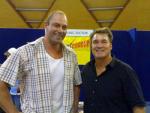 Sam J. Jones - Flash Gordon
The reason Sam and I had to stop chatting was that there was another fellow there who wanted to talk with both of us, in fact it was one of the guys from the Make Up and Effects group (MEG) that made the Manthing monster costume and other special effects for the movie. It seems the guys at MEG were starting their own production company and there could well be some work for me with them in their first production - a horror flick - filming towards the end of 2008.

Also of interest I was able to audition from a rather large US film, though if I was in then I would have been contacted by now.
I also met the casting agent for the new Wolverine movie though the parts were largely cast, but it is good for someone in Australia to have me on the books.
After the Berlin show finished Graeme and Janet Murphy had a Gala event, celebrating their retirement as Artistic Directors of the Dance Company and I had a small run on part at Graeme's request...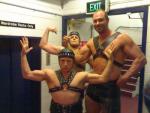 Bradley, Simon and Conan
Though around the 3rd week I must admit that I was not wanting to be in Australia anymore, but keeping busy was a good way to keep positive and try not to be too negative about Australia.
The thing I disliked most in Australia was the overt supression of the Australian population. Paramilitary poilce were everywhere, armoured Riot trucks driving around the city at night time, constant bombardment on TV with advertisements, rising and ridiculous penalties for small offenses.
And George Bush Jr had just left the APEC meetings. During his stay 'security' went around to all the cafes and restraura nts in a massive radius and told them they were not permitted to put knives on their tables. Office workers were told to close all windows, shutters, blinds on windows facing to the building where the meeting was being held and they were told there would be severe trouble if they were caught looking out the windows... they were also told not to look at the helicopters.
Australians seem to have forgotten that many good, brave men died to keep this country and "The Empire" free from tyranny and international greed. Yet today Australia serves the USA, making the same mistakes without question as we forget our ties to and our heritage from England and Europe
The ANZACS
Admist this severe repression not seen since Stalin lost power a group of true blue Aussies showed the true Australian spirit in the way Aussies are best known.... by "taking the piss". For thier efforts they were charged under new laws with entering a restricted area without justification. WTF? Since when did Australia stop being a free country?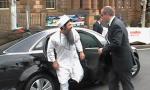 The Chasers vs APEC Security
The comedy group "The Chasers" dressed up like Osama Bin Laden complete with crappy fake beards and insecurity passes with "Joke" and "this is clearly not real" clearly printed on them. They then proceeded to drive 3 cars right up the the building that was housing the conference and George Bush Jr. In other words all the bullcrap and annoyance to the general public was just that, as three fully loaded car bombs could just as easily passed through as 3 carloads of comedians.
Anyway, I finally made it to the airport, feeling the happiest I had felt since I arrived in Sydney... I was going back to Asia, only to see one last glimpse of my friend James...
James In An Advertisment
Then I was on my way happily back home. :)