Bodybuilders and dieters are always looking for tips on eating healthy, high protein, low fat foods. I have had a number of requests for information regarding egg whites recipes.
So now I bring to you my top 10 low fat, high protein egg white recipes....
New updated full recipes with cooking instructions - Low fat high protein Recipes with Egg Whites recipes and Conan's Top 19 'Low Recipes'
If you need directions on cooking eggs then follow the link to the article that goes into detail.
Or better yet visit my new website with each recipe having a video of me preparing and cooking the dish, many new egg recipes:
Learn How To Eat For Muscle Gain:
Lots Of New Egg Recipes All In Detail With A Demonstration Video.

1. Fluffy, creamy Egg whites recipe- Whisk 6 egg whites with 1 tablespoon of low fat cottage cheese, this gives the eggs a taste similar to frying them in butter and bulks them out a bit making them easier and tastier to eat
2. Scrambled Egg whites recipe + low fat ham / tomatoe / mushrooms fried in a non stick pan add a hot coffee and brown toast et voila! breakfast is served
3. Egg nog - 6 egg white recipe + cup of milk, teaspoon of sugar and a couple of drops of vanilla essence, sprinkle nutmeg on top after blending
4. Egg White omlete - 6 egg white + 1 yolk scramble then pour into non stick fry pan. Sprinkle tuna and low fat cheese evenly over the surface. Once the eggs start to hardedn fold the omlete in half and serve with tomatoe sauce
5. Pavlova - 20 egg whites and about 6 cups of sugar, vanilla and kiwi fruit are the main ingredients - since this sort of goes against the reason for eating egg whites I'll skip the rest of this recipe (yes it is low fat but you will get fat as mud eating this tasty Australian desert)

6. Porridge with Egg White Recipe - mix egg whites into your morning oatmeal (porridge), with a sprinkle of salt, a mashed banana, and a dash of milk on top you cannot taste the egg whites at all - courtesy of IFBB Pro Bodybuilder Peter Wall when I used to train at his family's gym
7. Large fried egg - crack 6 egg whites + 1 yolk into a pan - I then fry it as I would a normal egg - over easy, leaving the yolk runny. Then I break the yolk and spread it out over the egg white so that it gains some flavour. Maybe add tomatoe sauce.
8. Curried Egg White Sandwiches. Scramble your egg whites, pu them into a bowl when cooked. Add in some curry powder (Keens in Australia) and mix it through with a fork. Put on bread and make sandwiches - this is something we eat in Australia all the time (usually with full eggs though)
9. Egg Whites + Instant Noodles - make a batch of 2 minute noodles, then when finished add in 3 egg whites and 1 yolk, stir thoroughly, add a little tomatoe for extra flavour, close the lid and let sit for another couple of minutes then eat.
10. Egg Whites in Flavoured Milk - blend together and drink, I usually always keep one yolk
BONUS RECIPE 11. Egg Whites In Stir Fried Rice - cook some rice. Then stir fry (non stick pan) carrots, and beans cut into small pieces, when hot throw in some previously cooked diced chicken or shimps. Throw in some cabbage sliced into strips, when this is heated add your cooked rice, add oyster sauce and fish sauce (or say sauce). Mix in your egg whites, stir it around as the egg whites cook, then serve. Up to 6 egg whites for 1 cup of rice.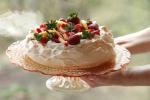 Traditional Australian Egg White Recipe - Pavlova
Yes I threw in a bonus recipe as the Pavlova* does not really count.
* The Pavlova was named after the Russian Ballerina Anna Pavlova who toured Australia and New Zealand in 1926 and 1929 when the cake was first baked in her honour and thus gained her name.
The Pavlova is recipe calls for beating egg whites (and a pinch of salt) until they are stiff then fold in caster sugar, vanilla, and vinegar. Slow-bake the mix to create the meringue. This is the outside of the pavlova, a crispy crunchy shell, while the interior remains soft and moist. The Pavlova is then topped with whipped cream and fresh fruit - strawberries, peach slices, passionfruit and kiwifruit.