I found this photo the other week of Arnold Schwarzenegger on the set of Conan the Destroyer, I was surprised and shocked to see Arnold look like a small boy next to Andre The Giant and Wilt Chamberlain...
Sandwiched between 7'1" Pro Basketballer Wilt Chamberlain and 7' Tall Pro Wrestler Andre The Giant our favourite governator looks like he needs some growing up to do. It just goes to show how much the camera can make a difference.
I am not saying Arnold is small by any means, he is in much better shape than either of the men he is standing with and has gone on to do fantastic things, unbelievable for a provincial boy from Austria, or inspirational for a small town boy from Australia.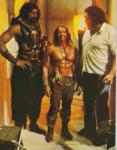 Arnold Schwarzenegger Looks Small With Andre And Wilt
This brings me now to some of the comments/emails I get from various people around the world. I get quiet a lot of comments like "He isn't really big, bodybuilder X is so much more muscular"
Well yes, of course a top 3 spot full time professional 5'8" Bodybuilder is going to be more muscular, it would be impossible at my height to pack on that same sort of muscle.... and live.
But as seen so dramatically in the photo above, even a well known muscular 'big' guy just does not look as impressive as the taller fellows, add in a muscular taller fellow and things start to get a little weird.
As I heard one recent 6' tall Mr. Universe winner state after meeting Nathan Jones for the first time "That is the first time I have ever stood next to someone and felt small".
Even for myself sitting on set at Som Tam and watching Nathan manoevering around the cameras and the Thai crew I caught myself thinking "Gees, he is big" and then the thought suddenly hit me that we are about the same size and I laughed to myself.