Forget your girlie little 1kg buckets of whey protein powder - real men and giants get it in huge WPC80 bag loads - 25 kg bag loads.
I first discovered these big bags of whey protein powder in Australia and was hooked....
When everyone else was having a teensy weensy little scoop of protein powder (I mean why even bother?) I was dumping in a whole cup of powder at a time.... 5 times a day!
80 grams of protein per cup, 5 times a day, on top of what I was eating back then, which was A LOT, now you can begin to see how I got to my size.... hardcore training and hardcore eating.... an unbeatable mass building combination.....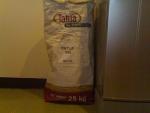 25kg Big Bag of WPC80 Whey Protein Powder
This is the same size bag you buy concrete in, it stands 85cm (33in) high and is heavy enough to use as additional weight in your home gym.
Anyone serious into your training should get yourself a big bag of WPC80 Whey Protein Powder - it is used commercially for adding to bread mix and is unflavoured.
Therefore you can also replace flour at a ratio of about 1/5 in your cooking and still have your food taste normal - high protein pancakes anyone?