Best Geek Beer Brand Ever
Saturday, 12 May 2012
Checking through thespecialty beers at the local supermarket today one branding stood out head and shoulders above the rest.
Being a big fan I just had to get the beer.
Which Beer....?
I was about 14 when I first saw Monty Pythons "The Holy Grail", I watched it 3 times in a row without a break. It was the most awesome movie I had ever seen and it was the first D&D like movie I had ever seen, there were Knights and K-nigits, wizards and ferocious rabbits.
So imagine my surprise when I saw this beer on the shelves tonight: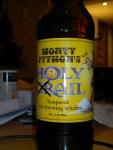 Monty Pythons Holy Gr ail - tempered over burning witches!
Awesome!