Conan as Sedullus in Spartacus Vengeance: Sacramentum Tonight
Friday, 09 March 2012
10pm in the USA tonight the Spartacus Episode that I am in goes to air. You an watch the preview here, if you look carefully you will notice me very briefly in the mix (seen below in a screen capture from the teaser), hopefully you'll notice me more than briefly in the show though.
****SPOILER**** Don't look at the photo in detail or read the following line if you have not been watching the show to date.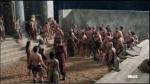 Crixus: "These are all Agron's people, who will they follow?"