Monday, 02 July 2012
Yep, 91 hours of flights in the last 3 weeks - sound glamorous?
At least my frequent flyer program approves of the flight times.

Friday, 25 May 2012
Want to win a unique collectors item from your favourite fantasy series? Autographed by one of the actors even!
This week, in conjunction with 2 major websites I will be giving away these two items:
An official The Hobbit "200 days to go" long sleeve black T-shirt, supplied to the crew at the end of filming of block one.
An official Dark Sword Masterworks miniature of Ser Gregor Clegane that George R. R. Martin gave to me when I signed for the first season.
WOW! How do I win both of these two great collectors prizes? Glad you asked....
Read on.....

Read more...
Friday, 11 May 2012
I have been receiving quite a few emails recently from GoT fans and just wanted to publicly say thankyou to everyone who took the time to write.
The emails gave me the idea to write the following article....
Read more...
Wednesday, 02 May 2012
www.theonering.net, the biggest Tolkien fansite on the internet, and the number one place for all your Hobbit rumours, news, and gossip (besides Peter Jacksons FB page that is) has interviewed me.
Monday, 30 April 2012
An associate is Producing a new web series described as... well here are their own words:
The Clandestine is a comedy webseries about a group of geeks who form a secret outlaw motorcycle club.

It's Sons of Anarchy meets The Office. The show takes place in Belfast, Northern Ireland, and takes the piss out of nerds and motorbikers... and old people... and everything else.

The show features killer motorbikes, sexy ladies, geeks doing dangerous stuff, a great sense of humour, and a soundtrack packed with music from the best up and coming bands in the Irish rock scene. www.theclandestine.tv
Geeks by day, outlaws in the disabled parking during their lunch hour, I think this has a good chance to take off.
I have supported them with a pledge and possibly some other help, if you are interested in being involved in a new series that has potential to take off then pop over to their kickstarter page and get involved for $10 or more.
Friday, 20 April 2012
I will be appearing at ARMAGEDDON in Wellington this Saturday and Sunday. If you pop in please let me know you read this on my website, cheers :)
Monday, 19 March 2012
Photo from the Hong Kong Filmart yesterday:
Who's that fellow on the left? No. Not him. The guy on the big poster.
The Production Companies page with very little extra info at present.
Friday, 16 March 2012
I have been asked quite a few times recently by fans of HBO's hit TV series Game of Thrones (GoT) if I would be back for the second season. Rather than continue to answer individual emails and messages I thought I'd write the answer up here because it'll save me answering individual emails and because I need to stop being so lazy regarding updating my website.
So here we go.....
Read more...
Friday, 09 March 2012
10pm in the USA tonight the Spartacus Episode that I am in goes to air. You an watch the preview here, if you look carefully you will notice me very briefly in the mix (seen below in a screen capture from the teaser), hopefully you'll notice me more than briefly in the show though.
****SPOILER**** Don't look at the photo in detail or read the following line if you have not been watching the show to date.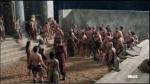 Crixus: "These are all Agron's people, who will they follow?"
Friday, 02 March 2012
Spartacus Vengeance episode 207 will air about 2 weeks later in New Zealand on "The BOX" network.
Finally after waiting only 6 months since the end of filming and announced my Spartacus debut, 7 months since I signed the Spartacus contract, and only 8 months since I first auditioned I will be appearing on STARZ, the US national cable network, for Spartacus Vengence.
And of course my original contact with some Spartacus casting people was over a year before that. Work hard do I? Patience Have I? Well it was better than the 3 years it took from start to finish with "Game of Thrones" with HBO.
This is my biggest role to air yet, and as you can guess I am bloody excited about it....
Read more...
Tuesday, 29 November 2011
Part 1 of a 2 part interview with me, go over and check it out since I have been to busy to write much here recently.
Tuesday, 01 November 2011
Vikingdom, a new movie by Epic Pictures, surprisingly about Vikings has me in a leading role as Thor.
What do vikings do? Murder, rape, plunder, go to war, ride in dragon headed longships and terrorise all of Europe for centuries - oh and discover the "New World" long before Columbus, etc.
Thor? Isn't he the lovable god from the recent superhero movie of the same name? No.
Definitely not. The mythical Thor was a different person, a lot different, and in Vikingdom they are protraying him closer to his mythical roots in a role that is less acting for me and more an extrapolation of my own personality.
Not to mention that I already have years of experience playing the role of Thor.....
Read more...
Thursday, 27 October 2011
Aspiring actors: remember nothing is sure until the contracts are signed.
Now having laid my disclaimer - Has Conan scored another major win? Of course I have or I'd have nothing to write about.
What is it? Well until the contracts are done I will not say but I think it is what would be termed a leading role in a decent budget movie that is (again) highly suitablefor me - funny how I tend to target these movies/roles exclusively isn't it?
For now I'll say I've flown to another country, have had meetings and everyone, especially me, seems very pleased and things are moving ahead.
Wednesday, 17 August 2011
I finished filming on Spartacus Season 02 today (hopefully - waiting for the rushes to be checked) and I have to say this is going to be an awesome piece of footage. The other actors I worked with were great upcoming stars, the stuntmen easy going, the Directors very approachable and helped me be my best. My makeup artist went beyond the call of duty, the Producers looked after my ridiculous dietary requirements, AD's were so helpful, as were catering and the Doof Doof boys. In fact everyone made my work very enjoyable and hassle free.
Fantastic. It was such a pleasure working as part of the team all pulling in the same direction....
Read more...
Sunday, 31 July 2011
I can now formally announce that I have signed with the Starz TV series SPARTACUS. As such I am now again in New Zealand preparing for my role during The Hobbit hiatus.
As a bonus today I recieved the six episodes of the prequel season of Spartacus - Gods Of The Arena to watch as background information. Not being a big watcher of TV personally, and not having access to the program at home in Asia this is the first I have seen of the series. (Season 02 was delayed and a prequel made in it's stead. So even though this is Season 02 it is the 3rd season of the series that has been made).
And I must say that I am impressed. I have watched episodes 01 to 04 straight with only breaks to cook food, and by the looks of it I will watch the entire season in one sitting - a very rare occurance, even for professional reasons.
Spartacus itself is another "jewel in the crown" of my credit list so to speak, in the last year now that is "Game Of Thrones", "The Hobbit" and now "Spartacus" - all pretty reputable Western credits that add considerable weight to my existing list....

Read more...