Wednesday, 06 December 2006
The Hannuman movie (The Big- working title) that I cast for months and months ago is going ahead as now planned. I am to play a massive Martial Arts Warrior, with the spirit of a (sacred animal) giving me my power and style.
Today all the fighters, stuntmen and actors met for a preliminary costume fitting...
Read more...
Tuesday, 05 December 2006
I just recieved a call from Graeme Murphy, a long time friend and owner of Sydney Dance Company. It seems that Sydney Dance Company is organising a return of "Berlin" the smash success modern ballet that I was apparently the inspiration for, and actor in the 80 minute show that toured Australia and New Zealand.
The return show is scheduled...
Read more...
Saturday, 19 August 2006
You have made it into the acting audition, congratulations, this is your first successful step towards landing an acting job. Next you have to impress the casting director (and any others present) enough to get the part, how do you do it?
This is how I do it...

Read more...
Tuesday, 08 August 2006
My first possible appearances in an Indian movie and a Korean movie, both these initial appearances would then gain me exposure in those markets and open further opportunities in these areas. Remember Indian Bollywood makes more movies and has a larger audience than Hollywood.
This is a part of my goals - to do a major movie in every major market worldwide.
Read more...
Saturday, 15 July 2006
Today we went shopping for movie costumes and movie props, as you can see all sorts of weird, dangerous and exotic weapons are available from the street stalls of Bangkok.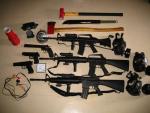 Dangerous Weapons and Replicas - all legal sales on the streets
I also recently did a casting for a TVC (television commercial) for Skittles...
Read more...
Sunday, 02 July 2006
Som Tam (Pronounced Som Tum) the new Thai movie of the year is casting in Bangkok at the moment.
I meet with the Assistant Director on Wednesday - watch this space for updates.
Nathan Jones is also signed for this movie. Two seven foot giants in one movie - this will be awesome.

WEDNESDAY UPDATE - Met with the Assistant Director, and the Producer today...
Read more...