Today we went shopping for movie costumes and movie props, as you can see all sorts of weird, dangerous and exotic weapons are available from the street stalls of Bangkok.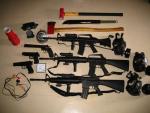 Dangerous Weapons and Replicas - all legal sales on the streets
I also recently did a casting for a TVC (television commercial) for Skittles...
Click on the photos for a description and a bigger view
Knives, Sword, Replica Pistols, Gas Masks - what are they expecting?
I can only imagine the havoc if this stuff was sold on the side of the road back home in Australia.
3am in the morning and drunk "Yobo's" walking around everywhere - add in a street vendor with knuckle dusters and a collection of knives, swords and replica guns and what would you have? Yet here in Asia none of it raises an eye as everybody knows any self respecting street brawler will bring his own machete just in case.
On a different note here is the Skittles TVC audition so you can see what the casting directors get us to do.
This TVC casting is the first time I have had to touch a snake and it is the first time a snake has ever urinated on me - great - a real experience I recommend it to everyone.
Skittles TVC Audtion - yep sometimes auditions are really weird.