Wednesday, 24 December 2008
Just realised it is Christmas today - already, just goes to show how much of an event it is for me here in Asia.
Since all the Western Malls and Shopping centres have been playing annoying as heck crappy Christmas carols for the last two months now (something I am very glad to miss out on), here is an Interesting Christmas song from Jon Lajoie, a Canadian comedian making a bit of a name for himself on Youtube...
Read more...
Saturday, 13 September 2008
My first cover story since Drum Media in Sydney in 1998.
Pretty exciting for me, even though the Australian media dismisses me as a nobody and of little to no interest to the Australian audience as I am not on Australian TV, even though I cannot get an interview or article in Australia and no PR agent wants to represent me, those that I contacted and spoke to were disdainful and some where even somewhat condescending to me, when even some unnamed (you know who you are) management at the Sydney Dance Company outright said I was not of interest to the media....
Here I am Front cover and a 3 page internal story in a magazine that has a 24,000 member distribution....
Read more...
Thursday, 04 September 2008
Recently I have been getting a fair few emails from people asking me to help them get into movies it is a pretty standard format:
Hi Conan, my name is x (1. we met at y or 2 I found you online), I am a really good writer/actor/fighter and I really want to get into movies. Can you help me?
Read more...
Monday, 07 January 2008
20 Kgs of luggage allowance and months away from home - what do you pack when travelling?
Often I have seen friends packing way too much stuff in their bags when they are only travelling for 2 weeks . They bring a full backpack, a travel pack and some carry on luggage AND their laptop.... everything but the kitchen sink - just in case they "need" it.
That is too much to pack when travelling, especially when travelling to Thailand or anywhere in SE Asia. Carrying around a whole pile of crap that you do not need or use is a sure way to annoy the heck out of you when travelling, especially if you plan on getting around and seeing the country you travel to.

Here's what to pack when travelling international, or more specifically what I pack...
Read more...
Wednesday, 07 November 2007
I spent Oct 2007 in Australia working on the return season of Sydney Dance Company's production "Berlin", surprisingly the day that I landed in Sydney it was 2 years and 1 day since I left Australia (meaning that it was 2 years to the day that I had been based in Thailand).
What had changed? How much had I changed? Did I still enjoy Australia? Would I have fun or would I slowly go insane in a non-utopian encroaching police state?

Read more...
Sunday, 14 October 2007
Are you scared of heights? Have a fear of heights? Fear of falling? Are you an Acrophobic?I was but I 'cured' it.

Funnily enough for being extremely tall I have always had a fear of heights, having the safety railings at knee height did not help matters either. As a child I would have nightmares that I was falling, I would wake up in a cold sweat many nights with the same falling dream.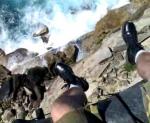 Fear Of Heights? Are You Scared? I was.

So in my usual style I had to confront this fear of heights, and beat this weakness that may cause me troubles in my future stunt/acting career....
Read more...
Sunday, 01 July 2007
I quit my business and moved to Thailand 2 years ago. I have been to Thailand 3 times before and last time I vowed that I wouldnever return.
Yet 2 years later I sold up everything and moved to Thailand.
What possessed me to do such a thing? And NO it was nothing to do with a Thai girl...
Read more...
Wednesday, 17 January 2007
How does one go from being the unpopular geeky kid at school to turn popularity into a full time profession? Difficult? No, not really - it just took time and effort - here's how I did it...
Read more...
Sunday, 17 December 2006
One of the constant challenges in my life has been people automatically assuming that because I am big and tall that I am stupid or simple minded.
This is riduculous, so I joined MENSA....
Read more...