Friday, 15 December 2006
Several months ago I went on a short holiday for a week to visit some of the other sites in the region, predominantly I wanted to visit Phnom Penh, Cambodia and have a look at the place in terms of a future base (home).
People who travel to one other country then espouse how great it is and how they want to live there the rest of their life, in my opinion, are making a mistake. What are they basing their judgement on? Experience with 2 countries out of hundreds? Get out and have a good look around before you make your decision on where in the world you want to live. Also note that a 2 day package tour does not show you what a country is like at all - it shows you 5 star hotels and a group of tourists taking photos.
So off I went - overland - to get a good look at Cambodia, Phnom Penh and the people....
Read more...
Wednesday, 26 July 2006
One of the great things about Thailand is the huge variety of exotic foods, for example here are a couple of snaps I took the other day, just walking around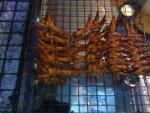 BBQ Chicken feet anyone?
Read more...
Wednesday, 05 July 2006
Forget the Yellow Submarine... lets get the green bus!
Part of the Bangkok Public Transport System these suicidal drivers are often the fastest way to get around. Not being a full sized bus they can squeeze into places and out accelerate full size buses, also since they are still bigger than nearly everything on the road they get right of way.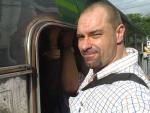 Bangkok Public Transport
Here I am standing just outside the Green Bus number 14, why am I standing outside the bus?
Read more...