Tall Actors Giant Life
Tuesday, 25 December 2012
Well it seems Christmas has rolled around yet again, and I have pulled my finger out and am writing on my blog. Amazing.
So what does a Conan style Christmas entail?
Well it started with sitting on a tropical beach eating breakfast burritos.

How much better could it get?
Well a lunch time check of my email revealed an email from a friend in the industry asking if I'd be interested in a new movie project he is involved in, the offer was fine, the people are good, the role is likely to be interesting, and the other actors I'll be working with are well known in their market segments.
All in all a great Christmas. Now I'm off to do the ex-pat Christmas thing and heading over to a western run hotel for tons of western food and a few beers with a bunch of foreigners who also left their home countries in search of a better life.
Cheers, have fun and enjoy today regardless of current stresses.

Blogging Adsense And How To
Tuesday, 04 September 2012
You may have noticed that I no longer update this site as much as I used to, certainly not every second day as I did when I started it. There are several reasons for that....

Read more...
Acting Movies TV Film
Saturday, 25 August 2012
Today I noticed this exchange by Dominic Purcell (Prison Break, Killer Elite, Vikingdom!) and Vikingdom Producer Norman Abdul Halim over at Dom's fansite.
In the exchange dated back in May, Norman says that a trailer for VIkingdom will be release this August, seeing as it is now the 26th that would mean a trailer release is imminent if things have progressed according to schedule (which is rare in the film industry with so many variables).
Either way I think we'll be seeing a trailer for Vikingdom released shortly.

Acting Movies TV Film
Monday, 30 July 2012
Big news today for fantasy movie fans everywhere - Theonering.net (the premiere Tolkien fansite) has an article that Sir Peter Jackson has confirmed that there will be a 3rd "The Hobbit" movie made.
I cannot comment, but go and read it at Theonering.net .

Acting Movies TV Film
Monday, 02 July 2012
Yep, 91 hours of flights in the last 3 weeks - sound glamorous?
At least my frequent flyer program approves of the flight times.

Acting Movies TV Film
Friday, 25 May 2012
Want to win a unique collectors item from your favourite fantasy series? Autographed by one of the actors even!
This week, in conjunction with 2 major websites I will be giving away these two items:
An official The Hobbit "200 days to go" long sleeve black T-shirt, supplied to the crew at the end of filming of block one.
An official Dark Sword Masterworks miniature of Ser Gregor Clegane that George R. R. Martin gave to me when I signed for the first season.
WOW! How do I win both of these two great collectors prizes? Glad you asked....
Read on.....

Read more...
Tall Actors Giant Life
Saturday, 12 May 2012
Checking through thespecialty beers at the local supermarket today one branding stood out head and shoulders above the rest.
Being a big fan I just had to get the beer.
Which Beer....?
Read more...
Acting Movies TV Film
Friday, 11 May 2012
I have been receiving quite a few emails recently from GoT fans and just wanted to publicly say thankyou to everyone who took the time to write.
The emails gave me the idea to write the following article....
Read more...
Acting Movies TV Film
Wednesday, 02 May 2012
www.theonering.net, the biggest Tolkien fansite on the internet, and the number one place for all your Hobbit rumours, news, and gossip (besides Peter Jacksons FB page that is) has interviewed me.
Acting Movies TV Film
Monday, 30 April 2012
An associate is Producing a new web series described as... well here are their own words:
The Clandestine is a comedy webseries about a group of geeks who form a secret outlaw motorcycle club.

It's Sons of Anarchy meets The Office. The show takes place in Belfast, Northern Ireland, and takes the piss out of nerds and motorbikers... and old people... and everything else.

The show features killer motorbikes, sexy ladies, geeks doing dangerous stuff, a great sense of humour, and a soundtrack packed with music from the best up and coming bands in the Irish rock scene. www.theclandestine.tv
Geeks by day, outlaws in the disabled parking during their lunch hour, I think this has a good chance to take off.
I have supported them with a pledge and possibly some other help, if you are interested in being involved in a new series that has potential to take off then pop over to their kickstarter page and get involved for $10 or more.
Acting Movies TV Film
Friday, 20 April 2012
I will be appearing at ARMAGEDDON in Wellington this Saturday and Sunday. If you pop in please let me know you read this on my website, cheers :)
Acting Movies TV Film
Monday, 19 March 2012
Photo from the Hong Kong Filmart yesterday:
Who's that fellow on the left? No. Not him. The guy on the big poster.
The Production Companies page with very little extra info at present.
Acting Movies TV Film
Friday, 16 March 2012
I have been asked quite a few times recently by fans of HBO's hit TV series Game of Thrones (GoT) if I would be back for the second season. Rather than continue to answer individual emails and messages I thought I'd write the answer up here because it'll save me answering individual emails and because I need to stop being so lazy regarding updating my website.
So here we go.....
Read more...
Acting Movies TV Film
Friday, 09 March 2012
10pm in the USA tonight the Spartacus Episode that I am in goes to air. You an watch the preview here, if you look carefully you will notice me very briefly in the mix (seen below in a screen capture from the teaser), hopefully you'll notice me more than briefly in the show though.
****SPOILER**** Don't look at the photo in detail or read the following line if you have not been watching the show to date.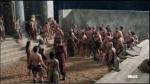 Crixus: "These are all Agron's people, who will they follow?"
Acting Movies TV Film
Friday, 02 March 2012
Spartacus Vengeance episode 207 will air about 2 weeks later in New Zealand on "The BOX" network.
Finally after waiting only 6 months since the end of filming and announced my Spartacus debut, 7 months since I signed the Spartacus contract, and only 8 months since I first auditioned I will be appearing on STARZ, the US national cable network, for Spartacus Vengence.
And of course my original contact with some Spartacus casting people was over a year before that. Work hard do I? Patience Have I? Well it was better than the 3 years it took from start to finish with "Game of Thrones" with HBO.
This is my biggest role to air yet, and as you can guess I am bloody excited about it....
Read more...