Thursday last week I had an appointment to go and see about a part in an upcoming foreign movie filming here in Bangkok, in fact I was specifically requested to come in.
Then Wednesday night I recieved a call, please make it Friday instead. Thursday is an open casting call, there will be many people there - if you come in Friday we will have more time for you....
An open casting call is also sometimes referred to as a cattle call, everybody and anybody can turn up, and they do. It is a circus of aspiring Extras, wannabe actors, random freaks and a smattering of skilled professionals. If possible you want to avoid this audition day.
Right, so Friday it was.
The casting agent was the same as for the Japanese movie, he was impressed with me at that meeting and I think that I came recommended from three different people that he trusts probably helped a lot too. Especially Steff, the producer of the Thaitanium music video I did back in October 2006 - see how these things come back around.... eventually.
Dear, the casting agent, thankfully put me up for an acting role rather than a stuntman role, and guess what? It's a bad guy role again.
So if I am to play the bad guy again, who is to play the good guy this time?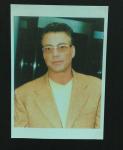 Jean-Claude Van Damme Photo At The Casting
Here is a photo of the pin board of actors, at the top of hte tree is Jean-Claude himself. Upon further questioning it seems that Jean-Claude writes the script, made the story and is involved with the production side of things. More than just a martial artist! A lot more.
So I had my photos taken and did a screen test. I acted out a short scene with dialogue with the casting director and an assistant filming it on a handy cam.
Now I just have to wait and see how Jean-Claude Van Damme likes my look/acting.
The benefit in a production such as this where one man makes the decisions is that he can change the movie to add characters if he sees fit, or he can easily modify the existing role to more suit myself.
So now as standard in the life of an actor, I am waiting for the next step.